Mike Guldin
Tumblin'
Blue Heart Records
Publicity: Blind Raccoon
Peter "Blewzzman" Lauro © March 2022
Talk about blasts from the past, looking back into the Mary4Music Blues Review Archives, I discovered that it has been over seventeen years since I first had the pleasure of working with Mike Guldin. It was January of 2005 and I reviewed what I believe was his second release – Roadhouse Rhythm. In addition to saying welcome back Mike! I'd also like to say I'm happy we're both still at it.

Obviously being a believer of the "If it's not broke, don't fix it" theory – impressively, most of the nucleus of the band from that release are still with Mike on his newest – Tumblin'. They, along with many special guests joining Mike Guldin on guitar and lead and background vocals, include: Bill Sharrow – Mike's co-producer and co-writer – on bass, acoustic and electric guitar, percussion, organ and background vocals; Billy Wear on drums and percussion; Tim Hooper on piano and organ; CJ Clark on bass; Will Hodgson on background vocals, mandolin and harmonica; Kevin McKendree on B3 organ and piano; James Pennebaker on pedal steel and slide guitar; Craig Thatcher on electric, slide and acoustic guitar; Mikey Junior on vocals and harmonica; Roger Girke on lead and background vocals and guitar; Lewis Stephens on piano; Kevin Vannoy on Tenor sax, harmonica and background vocals; and Luis Mora on trumpet. Tumblin', which was recorded in seven different studios, contains thirteen original tracks and two classic covers.

The disc opens with the title track – "Tumblin'". It is an instrumental that, besides the addition of Roger Girke on guitar, features the original members of the Rollin' and Tumblin' band: Mike on guitar; Billy on drums; Tim on organ; and CJ on bass. The groove they're in will clearly make you understand why these cats are still all playing together.

This track finds Mike feeling "Sad And Lonely" 'cause when he woke up, his baby – and everything he ever owned – was gone. Yep, that will surely give you the blues. That said, I apologize for not feeling your pain, Mike. With the rhythm Bill and Billy are laying down on the bass and drums, and the smoking piano and harmonica highlights Kevin and Mikey are banging out, this shuffle has me feeling more like dancing.
Since it is a place where you tell your friends to go to forget their cares, it seems fitting that after what happened to Mike which caused him to have to write the last song, that Mikey Junior would take him to the "Twisted Tail". Hearing this duo singing about a place that has a blues band that's ready to wail; a bourbon bar with BBQ; and women all around who are shaking their thing; it sure sounds like a plan. Speaking of shaking things, Bill's rhythm and percussion beat will surely have you shaking yours; and with Mike and Mikey feeding off of each other, the track features some of the disc's best guitar and harmonica playing.
 As with all of these tracks, there is a whole lot of outstanding music, by a whole lot of outstanding musicians, going on.  However, I'm pretty much going to say that it's the fabulous guitar work from another blast from the past –  Roger Girke – that compelled me to say a few words about "That's All She Wrote".  Roger is another Mary4Music alumni and coincidentally, it was just three months before my last Mike Guldin review when I did a review of his My Baby Loves That Stuff CD.  Glad you're still at it as well, my friend.         
 
Just like that honky tonk woman the Stones sang about, on a song with a similar vibe, Mike and the guys are about to "Raise A Ruckus".  And as any good band knows, if you're gonna raise one, then raise the hell out of it.  Enter: thunderous rhythm from the two Bills;  crazy good slide guitar by James; blaring sax and trumpet leads by Kevin Vannoy and Luis Mora; raucous organ and piano leads by Kevin McKendree and Tim Hooper; and rowdy, gravely voiced vocals by Mike Guldin.  There you have it, a ruckus successfully raised. 
 
Although this one's somewhat satirical, we all know that many a truth is said in jest.  It's titled "One Percent" as in "I/we/you ain't that one percent".  With my favorite being "If Robin Hood were alive today he'd come to our defense, and take back all of our money… back from that one percent", it's needless to say that clever innuendos are abundant.  It's a smoker led by the usual powerful rhythm, with guitarist Bill Sharrow impressing on both the bass and the lead guitar, and Kevin McKendree being Kevin McKendree on the B3. 
 
When the Blewzzlady hears this song, there's not doubt in my mind she'll hit replay and say "Pay close attention to what Mike is saying and take his  advice to heart".  Admittedly, lines like…
"Before you get mad and do something bad,
    we'd all be glad if you would "Check Yourself".
Before you go nuts and kick some butts,
    it takes some guts to really check yourself"
… did strike a chord. 
(Side note to Mike: Thanks, feel free to send me an invoice for your services.)
On a lighter note – phew – this Dylan-esque track features truthful, well written and well sung lyrics; excellent acoustic guitar strumming by Mike; fabulous mandolin and harmonica work by Will; and awesome synthesized flute and fife effects by Kevin on the B3.
Just as the disc opened, it also closes with an instrumental.  It's an acoustic track titled "Waterfall", and with soft rhythm and percussion in the background, it's an absolutely beautiful, recital type, acoustic guitar performance put on by Mike Guldin and Craig Thatcher.   
 
Other tracks on the excellent new release by Mike Guldin include: "She Caught The Caty" (J. Rachell & T. Mahal); "Alabama Pines"; "House Of Cards"; "You Just Can't Lose"; "Sweet Thing" and "Key To The Highway".  
To find out more about Mike Guldin, just check out his website – www.mikeguldin.com . Remember, wherever you go and whoever you contact, please let them know The Blewzzman sent you.
"The Blues Is My Passion And Therapy"

Peter "Blewzzman" Lauro
P. O. Box 9346
Coral Springs, FL 33075-9346

Blues Editor @ www.Mary4Music.com
2011 "Keeping The Blues Alive" Award Recipient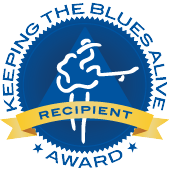 Please "Like" Our Facebook Page…..
https://www.facebook.com/ Mary4Music1