ABS Wins the KBA
We are honored to accept this rare award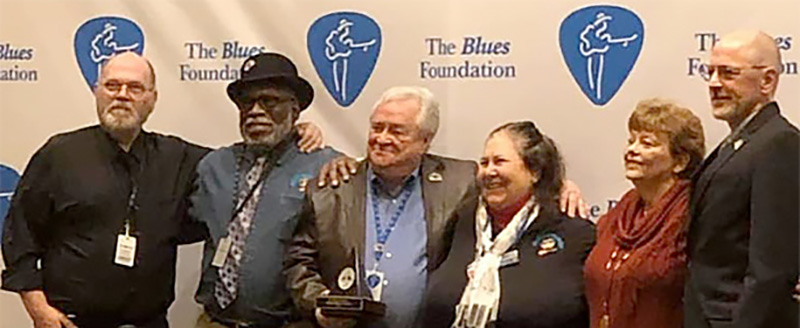 Board Members of the Atlanta Blues Society accepting the Keeping the Blues Alive Award at the luncheon during the IBC in Memphis TN. Left to right: Richard L'Hommedeau, Carlin Smith, George Klein, Barb Hilke, Deb Pruitt, Dave Black.
Keeping The Blues Alive
Each year, The Blues Foundation presents the Keeping the Blues Alive (KBA) Awards to individuals and organizations that have made significant contributions to the Blues world. On January 25, 2019, The Blues Foundation presented the Atlanta Blues Society with a KBA Award during a recognition lunch in downtown Memphis, Tennessee. 
The KBAs are awarded to non-performers strictly on the basis of merit by a select panel of Blues professionals. Noted educator, author, journalist, and KBA Chairman Art Tipaldi notes "The KBA may be awarded for the recipient's work in the past year but most often reflects a lifetime of work; we don't view the recipient as the winner of a 'best of the year' category. Consistent with this philosophy, the committee generally refrains from awarding the KBA to an individual or organization more than once. Rather, we select a new deserving winner each year, except in rare cases when a significant period of time has elapsed since the first award."
Keeping the Blues Alive Award