Blues Legends
Timeless Blues legends, now departed...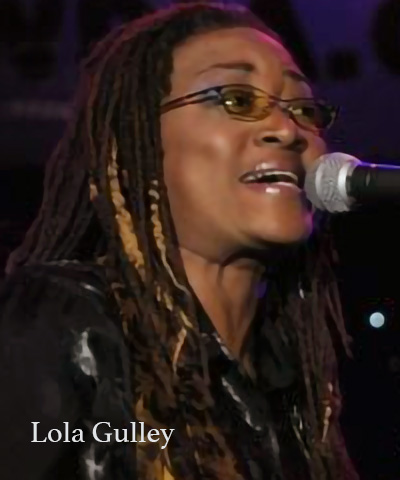 Lola Gulley

May 13, 1964 – March 30, 2022
We at the ABS are heart broken to report that our own long time Musician Sponsor, Lola Gulley, has passed.
Lola has been a fixture in the Atlanta blues scene for a long time and was always ready to help out with our monthly gatherings and special events. She held court on Monday nights at the Northside Tavern hosting an open jam for all players – young and old and in between.
Her yearly Toys for Tots drive and Animal Rescue fundraisers were always fabulously successful and she could be counted on to perform at countless other fundraisers. She recently won a Lifetime Artist Award from the Jus' Blues Foundation. Lola was an integral part of the Women in Blues movement and participated in many WIB events in Memphis.
She was crowned as one of the Queens of the Atlanta Blues along with Francine Reed and Sandra Hall by the Atlanta City Council at the 2013 Candler Park Fall Fest. She toured all over the world and was loved by many overseas. A true legend, she will be sorely missed and the Atlanta Blues scene will never be quite the same.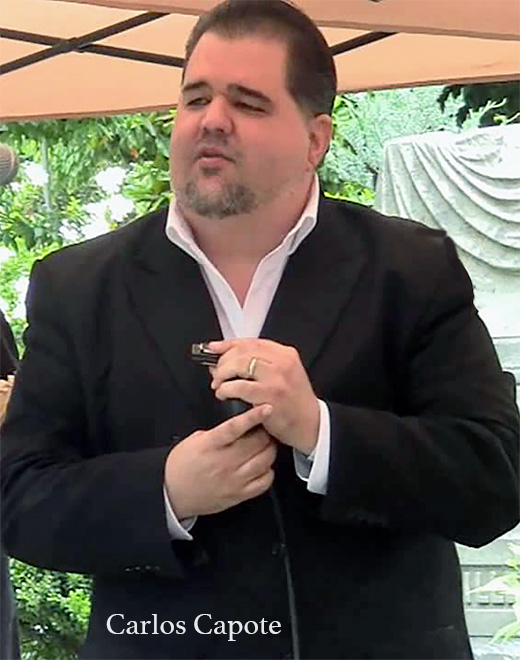 Carlos Ramon Capote

September 23, 1972 – May 30, 2021
Carlos Ramon Capote, also known as Breeze, passed away peacefully with his loving family by his side in their home on May 30, 2021.
An adoring husband. A devoted father. A caring brother and son. A bluesman. Carlos radiated grace on stage, in conversations and throughout his every day journey. Quick to share a smile, ready for a laugh and always equipped with a story, Carlos made you feel like you were the only person on earth.
For over 15 years, his band, The Breeze Kings had been one of the busiest and most respected bands in the Atlanta music scene. Their music, featuring complex guitar parts, explosive harmonica, and rock steady rhythms, is an exciting and authentic blend of 50s and 60s era Chicago and Delta blues styles and has caught the attention of people everywhere from blues purists to those new to the genre. The band has released four CDs on Atlanta's Veritone Records label and performed over 2000 shows all over the Eastern USA and completed four tours of Europe. They have opened for and played with some of the biggest names in blues, performed live on television and radio, and their music is regularly played on local, regional, national and international blues radio and internet programs. The Breeze Kings have won Creative Loafing's Best Blues Band in Atlanta award 9 of the last 14 years and were among the top 10 finalists at the 2005 IBC competition in Memphis.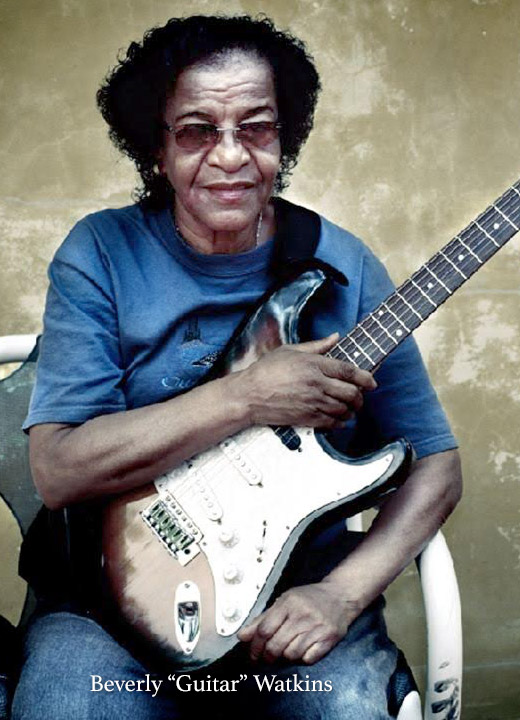 Beverly "Guitar" Watkins
April 6, 1939-October 1, 2019
Watkins was born in Atlanta, Georgia in 1939. When she was about 12 years old, her family moved to Commerce, Georgia. She began playing music in school, and, in high school, she played bass for a band called Billy West Stone and the Down Beats. Around the year 1959, she joined Piano Red, who had a daily radio show on WAOK. About the time the group renamed itself Piano Red and the Houserockers, they started touring nationally. Watkins had a long and continuous musical career, and worked with artists including James Brown, B.B. King, and Ray Charles. However, like many roots musicians, she found it difficult to crack the airwaves, and achieved recognition much later in her career, after the advent of the internet made it possible for musicians not backed by major labels to be heard by a wider audience. She was re-discovered by Music Maker Relief Foundation founder Tim Duffy, who started booking her in package shows, and in 1998, with Koko Taylor and Rory Block, was part of the all-star Women of the Blues "Hot Mamas" tour. Her 1999 CD debut, Back in Business, earned a W. C. Handy Award nomination in 2000.  Watkins was playing internationally (for example, the Main Stage at the Ottawa Blues Fest in 2004) as well as in her hometown Atlanta until temporarily sidelined by surgery in 2005, but recovered. She performed a set at the 2008 Cognac Blues Festival. Watkins died after a heart attack on October 1, 2019 at the age of 80. – Wikipedia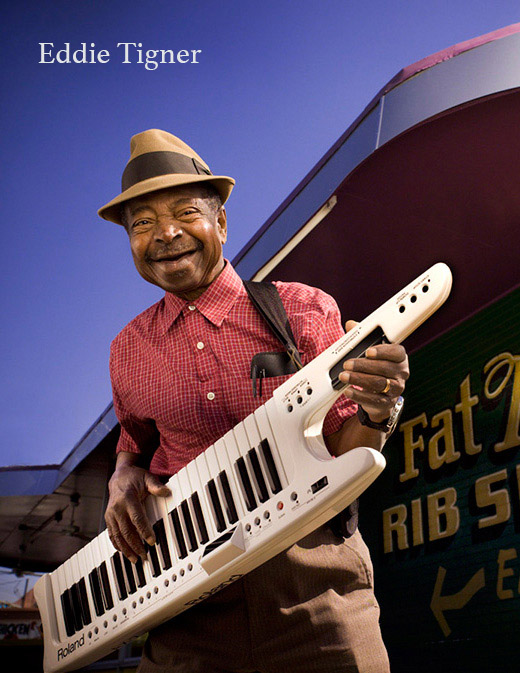 Eddie Tigner
August 11, 1926- April 18, 2019
Ed Tigner, Jr. was born in Macon, Georgia, United States. At the age of 14, the family moved to Atlanta, Georgia.  In 1959, Tigner joined the Ink Spots onstage during a show in Atlanta.  Tigner's bass heavy style of playing the piano helped secure a job with them. This led to decades of touring around the US.During this time Tigner met and played backing for Elmore James for a couple of years. His stature became such that the outfit was billed as Ed Tigner's Ink Spots, but the constant touring took its toll and Tigner suffered a heart attack. He left the outfit in 1987. However, in 1991, Tigner commenced playing in clubs in and around Atlanta, with the encouragement of a local guitarist Danny "Mudcat" Dudeck.
Locally, Tigner started to appear regularly at both Fat Matt's Rib Shack, sometimes with Beverly Watkins, and also at the Northside Tavern. A Northside Tavern regular, Tigner continued each week to play a repertoire which included songs such as "Going Down Slow", "Help Me Make It Through the Night", and "Shake, Rattle and Roll". Despite lung troubles necessitating steering clear of smoke-filled venues, Tigner enjoyed singing and playing at his 92nd birthday at the Northside.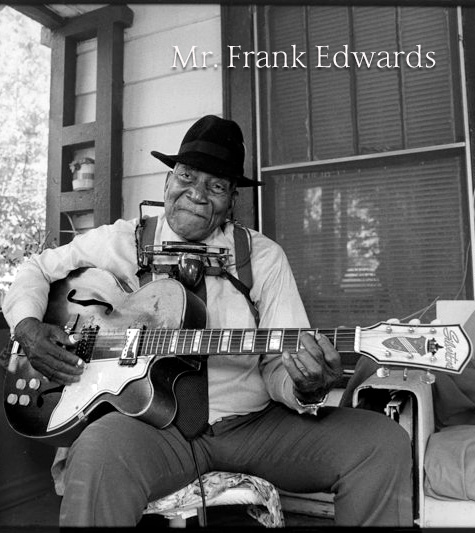 Mr. Frank Edwards

March 20, 1909 – March 22, 2002
Born March 20, 1909, in Washington, GA, Edwards left home at 14 after a disagreement with his father, bound for St. Augustine, Florida. He bought a guitar and began learning to play, receiving encouragement from guitarist Tampa Red (a.k.a. Hudson Whittaker). Later, Edwards took up harmonica, drawing inspiration from John Lee "Sonny Boy" Williamson and others. Edwards traveled extensively through the 1930s by bus or train, "hoboing" when he had to. He moved to Atlanta in 1936. An association with Mississippi bluesman Tommy McClennan led to Edwards' first recording session in 1941. He recorded again in 1949 and released a full-length LP, Done Some Travelin' (later reissued on CD) on the Trix label in 1973. He also supported himself as a carpenter, painter and plumber, but always played music, except for a two-year period when a house fire left him without a guitar. In a career that spanned nine decades, Edwards saw blues evolve from an exclusively black folk music form into a commercial entity that was embraced by both whites and blacks. Fittingly, the last months of Edwards' life – in fact, the last hours – were spent playing the music that he loved. In fact, he'd enjoyed a relative flurry of activity, performing at the Atlanta History Center for its "Nothin' But the Blues" series and at the Georgia Music Hall of Fame annex at Discover Mills in Lawrenceville, GA.
https://www.youtube.com/watch?v=34rhe-mCQGA
https://musicmaker.org/artists/mr-frank-edwards/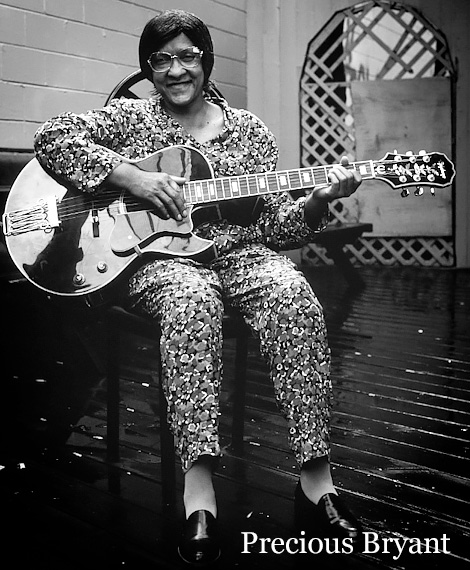 Precious Bryant
January 24, 1942-January 12, 2013
Precious was an amazingly gifted songwriter and spell-binding performer, who picked up the guitar at age nine, performing Piedmont Blues for her home community for over 15 years until meeting folklorist George Mitchell in 1967. In 1995 Music Maker Relief Foundation founder Tim Duffy met Precious, who told him, "The way I learned how to play a song, I would listen to the song on the radio and write the words down, and I wouldn't worry about the music, 'cause I could get the music. All I wanted to know was the words."
Precious recorded three albums in her lifetime, Fool Me Good (2002) and The Truth (2005) both earned her Blues Music Award Nominations. In 2005 Music Maker Relief Foundation released My Name is Precious, which would be her final recorded album.
In 2012 Music Maker was able to provide Precious with a new, second-hand mobile home with the help of supporters around the U.S., including blues legend Bonnie Raitt.  She will be sorely missed by staff, artists and members of the Foundation, our thoughts and prayers are with her family and friends.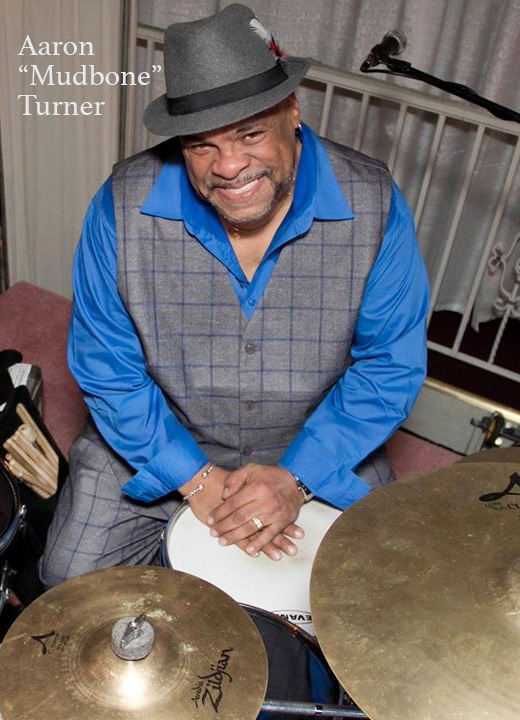 Aaron "Mudbone" Turner
June 11, 1958-May 17, 2019
The Atlanta Blues Society again expresses our condolences to the family, band, friends and fans of Atlanta blues legend, great Drummer, Singer, and Producer Mudbone Turner. He was a dedicated husband, father and always a bright light of spirit and soul filled energy, he will be so missed…
His band Mudbone Turner's Blues Band participated in our Atlanta Blues Challenge in August 2014 and was also featured in the 33rd Annual WRFG Labor Day Blues BBQ.
Rest in Peace Aaron "Mudbone" Turner❤️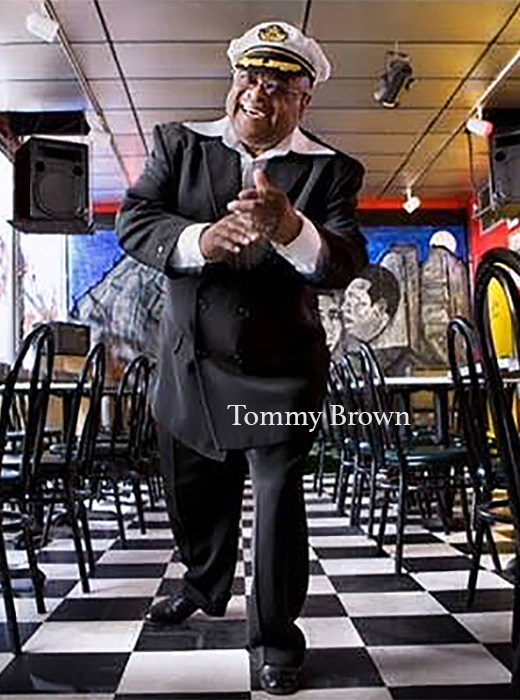 Tommy Brown
May 27, 1931-March 12, 2016
By Steve Derrick
In 2002, Tommy received a package in the mail from BMI containing his award for having Billboard's number one record. Tommy's recording of Weepin and Cryin' was the number one record in 1951, but Tommy was not around to enjoy its success, receive his award, nor to profit from performances; Tommy was serving our country in the Marines. What did the record company do? They hired a stand-in to perform all over the country as Tommy Brown. A lot of time has passed since then, but through the years Tommy Brown kept performing his own style of rhythm and blues, entertaining audiences with humor, style and of course great music. His importance in the blues community was again recognized on May 7, 2015, when the Blues Music Hall of Fame in Memphis inducted Tommy into its Hall of Fame.
The death of his mother in 1977 brought Tommy back to Atlanta to take over her personal care homes for the elderly and mentally handicapped. Like many performers Tommy's career had its ups and downs. Through it all Tommy remains the consummate performer, always there to entertain you. His quick wit and infectious smile makes you happy you got a chance to meet one of the nicest men on any stage.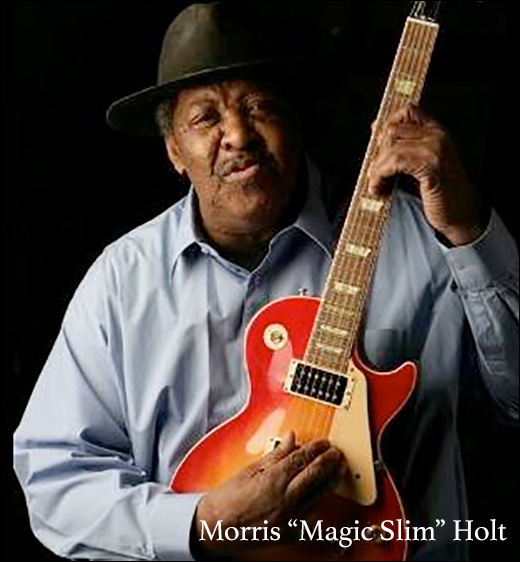 RIP Morris "Magic Slim" Holt
August 7, 1937 – February 21, 2013
By Bob Corritore
With the passing of Magic Slim we say farewell to one of the greatest traditional Chicago blues artists of our time. Magic Slim died of complications from a breathing disorder after weeks of hospitalization. He was 75. Though a great singer, guitarist and band leader, it was Magic Slim's undeniable personality that set him apart. He could play heartfelt, rough and tumble Chicago blues with a zest that was unmatched.   Born in rural Mississippi to a farming life, Slim lost his little finger in a cotton gin accident at a young age, but that did not seem to hinder his guitar playing. He arrived on the Chicago blues scene in the mid 1960s initially to a luke-warm response, but after recruiting his brother Nick to play bass, Magic Slim & the Teardrops were formed, and in 1966 their first single "Scuffin" was released. Slim's recordings will live as a permanent testament to his greatness with over 30 albums released on labels such as Alligator. He received numerous awards and nominations for his recordings. his band and for his role as a uncompromising traditional blues artist.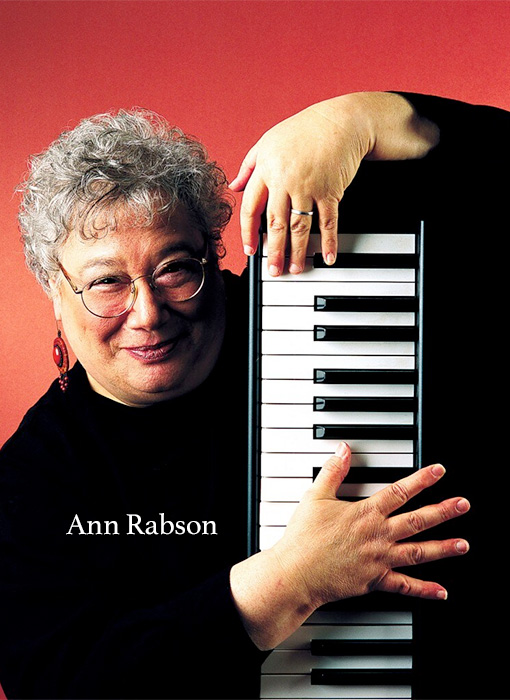 Ann Rabson
(April 12, 1945 – January 30, 2013)

Our dear friend Ann Rabson was an extraordinary blues singer, pianist and guitarist and a delightful, smart and funny person. As a founding member of Saffire–The Uppity Blues Women, a solo recording artist and a live performer, she brought her talent, intelligence and intense love for the blues tradition to every piece of music she played and sang. Rabson was born in New York on April 12, 1945 and raised in Ohio. As a child she was touched by the blues. She received a guitar from her father when she was 17 and found role models in Big Bill Broonzy and Memphis Minnie, one of the few early female blues guitarists. By age 18 she was performing around the Midwest. In the 1980s, she moved to Virginia where she taught guitar, Ann and her guitar student, Gaye Adegbalola, decided to perform together and the seeds of Saffire – The Uppity Blues Women were sown. Their recordings for Alligator are among the best-selling in the label's catalog. Ann released her first solo album, Music Makin' Mama, in 1997. In 2009, Rabson recorded three solo albums and continued to perform solo and with friends, including guitarist Bob Margolin. She appeared on recordings for numerous artists, including Cephas & Wiggins, Pinetop Perkins, EG Kight and Ani DiFranco.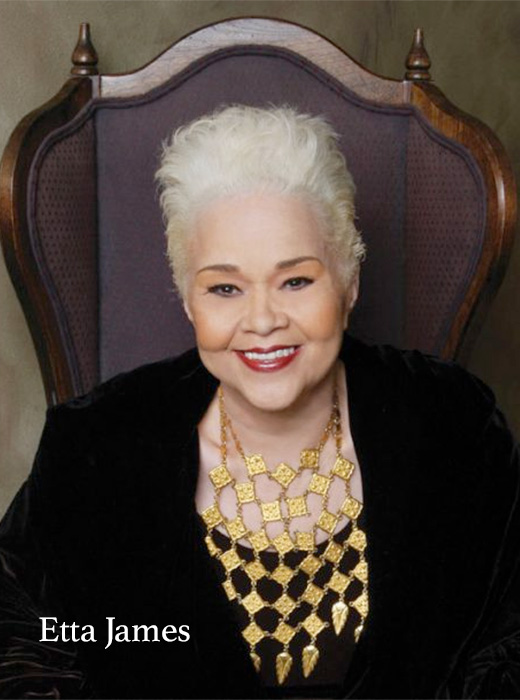 Etta James
(January 25, 1938 – January 20, 2012)

James' enduring hits include the yearning, passionate wedding "At Last" — sung by Beyonce to President Barack Obama and his wife Michelle during his 2008 inauguration — and "Tell Mama". James was a key figure in the early days of R&B music with hit songs like "The Wallflower" and "Good Rockin' Daddy". But it was her 1961 recording of the ballad "At Last" that put her on the map. She currently has a CD out called "The Dreamer." She would have turned 74 on Wednesday.  Bandleader Johnny Otis, who also died this week, found her singing on San Francisco street corners with a couple of girlfriends in the early 1950s. When Otis heard their rendition of "Roll With Me, Henry," he told James to get her mother's permission to accompany him to Los Angeles to make a recording. Instead, the 15-year-old went home and forged her mother's name on a note claiming she was 18.  James did get her accolades over the years. She was inducted into the Rock Hall in 1993, captured a Grammy in 2003 for best contemporary blues album for "Let's Roll;" one in 2004 for best traditional blues album for "Blues to the Bone;" and one for best jazz vocal performance for 1994′s "Mystery Lady: Songs of Billie Holiday." She was also awarded a special Grammy in 2003 for lifetime achievement and received a star on the Hollywood Walk of Fame.