Honorary Lifetime Members
Blues artists so righteous that we had to adopt them!
Diane Durrett
2023 Honorary Lifetime Member Recipient
Singer-Songwriter-Producer
Internationally recognized as a singer/songwriter and producer, Diane is always rocking the house with her distinctive vibrato, she can belt gut-bucket blues with the best of them. She proves it again with her 2021 American Roots release 'Put a Lid On It', which soared to #2 on the Soul Blues International Roots Music Report. She is an elected board member of the Atlanta Chapter of the Recording Academy, best known for the GRAMMYs and is currently co-chair of the Producer & Engineer Wing ATL and serves on the National Blues Advisory Board. She also continues to host the highly successful Women in Blues event sponsored by the Atlanta Blues Society, highlighting female blues musicians in Georgia.
http://www.dianedurrett.com
http://www.facebook.com/diane.durrett2
https://www.instagram.com/dianedurrettmusic/
https://www.youtube.com/channel/UCjaocb57VBO8gNJWH7VUKDA
Bill Sheffield
2020 Honorary Lifetime Member Recipient
Singer-Songwriter-Multi-instrumentalist
Everything about Bill Sheffield is authentic. It's there in the intense, transcendent way he finger picks his guitar. It's there in his songs that wrestle with earthly pleasure and the need for redemption. He's been playing in coffeehouses and bars in the Atlanta area since he was 18.  Categories don't do justice to Sheffield because he effortlessly transcends genres to create what can only be called great American music.  How  did a middle-aged white guitar player from Atlanta come to produce a stunningly accomplished collection of folk, roots and blues music? Flashback 40 years or so to a young, guitarist who fell in love with a special piece of American music history."Blind Willie Johnson played the greatest piece of music I ever heard," he says. "That was 'Dark Was the Night (Cold Was the Ground). It's still the best piece of American music ever recorded. It changed my life and made me understand what I was trying to do."
"Bill Sheffield has "that voice," the kind that immediately grabs you by the heart and holds you close as he explores yet another lyrical landscape." 
-Tony Paris
http://www.billsheffield.com/
https://www.facebook.com/Bill-Sheffield-269051603114379/
Little G Weevil
2018 Honorary Lifetime Membership Recipient
Little G Weevil is a highly esteemed member of the worldwide blues community. He was born and raised in Budapest, Hungary, and moved to the southeastern United States in 2004, moving to Atlanta in 2009, and has recently moved back to Hungary. He was the winner of the 2012 Atlanta Blues Challenge, Solo/Duo Category and the 2013 Blues Foundation's International Blues Challenge (IBC), Solo/Duo category and was also named the "Best Guitarist" that same year. In 2014, he was nominated for a Blues Music Award for "Acoustic Artist of the Year". He has also been nominated for a Blues Blast Music Award, USA Independent Blues Award, and the Hungarian Music Award (Fonogram Diji). He has released six internationally acclaimed albums and has toured across the globe.
"He somehow delivers intact the spirit and sound of Blues legends from 80 years ago…A new Blues star is here, he proves it." – Bob Margolin
https://gweevil.com/home
https://www.facebook.com/littlegweevil/
Albert White
2017 Honorary Lifetime Membership Recipient
Albert White, an Atlanta native, is no stranger to rhythm and blues. He began playing guitar in the late '50s and grew up playing behind his famous uncle, Piano Red, a legendary Rhythm & Blues powerhouse who had many hits including the song "Doctor Feelgood" famously covered by the Beatles. In Albert, the tradition of high energy, funky R&B lives on.
Albert and his band played jukes, clubs, and iconic historic venues throughout the Southeast from the 1960s to the present. Along the way, they shared the stage with every notable R&B star that has traveled the circuit including Rufus Thomas, Ray Charles, The Tams, Joe Tex and more. Currently, Albert tours with The Music Maker Blues Revue and frequently plays with his old bandmate Beverly "Guitar" Watkins and Eddie Tigner, both Atlanta Blues Society Honorary Lifetime Members.
Carlos Capote
2016 Honorary Lifetime Member Recipient
by Rhetta Akamatsu
For over 20 years, Carlos Capote has been a vital part of the Atlanta Blues scene and of The Atlanta Blues Society.  He even met his wife, Terri, through the Atlanta Blues Society!
In 1997, he formed his own group, The Breeze Kings, and they have gone on to become one of the most popular groups in Atlanta. They have been chosen by Creative Loafing as Best Blues Band an amazing 10 times, have completed four European tours, released four albums and played over a thousand shows across the Southeast. They have represented Atlanta at the International Blues Challenge three times, most recently in 2010.
Aside from his musical contributions both with the Breeze Kings and as a guest on numerous other albums, Carlos is a dedicated musicologist and historian and has a special appreciation and concern for the elder members of the blues community, and he has enthusiastically worked with older musicians like Frank Edwards, Cora Mae Bryant, Eddie Tigner and Tommy Brown. He has also been a mentor and example to younger musicians coming up.
https://www.facebook.com/breezekings/?fref=ts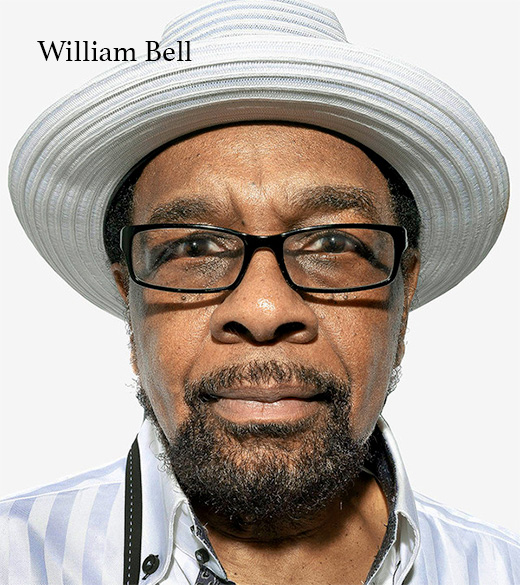 William Bell
2015 Honorary Lifetime Membership Recipient 
In a distinguished career as a singer, songwriter and producer, William Bell has come to define the essence of "soul." Born in Memphis but based in Atlanta since 1970, William Bell was one of the pioneers of the classic Stax/Volt sound, joining such other illustrious musical forces at that label as Otis Redding, Sam and Dave, Isaac Hayes, Booker T. & the MG's, Albert King, Eddie Floyd, Carla and Rufus Thomas, The Staple Singers and the Bar-Kays, among others.
Awards he's received over the last few years include the prestigious W.C. Handy Heritage Award in 2003; and that same year, he received the BMI Songwriter's Award for his tune, "Put That Woman first," recorded by Jaheim. In 2004, he received the Joe Pope Pioneer Award, presented at the Beach Music Awards. In addition, Wilbe Records was voted "Record Label of the Year" in 2004 at the Southern Konnection Radio and DJ Conference, and was voted "Record Label of the Year" in 2008 and 2010 by the Jus' Blues Foundation.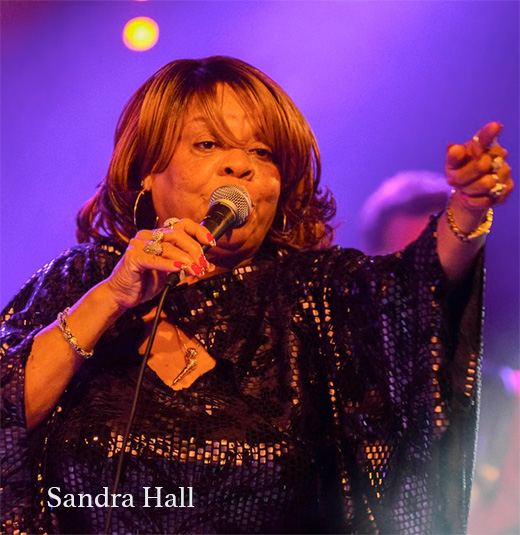 Sandra Hall
Honorary Lifetime Membership Recipient
Hall was born in Oakland City, Atlanta, Georgia. After singing from the age of four at a nearby church, Hall formed a duo with her sister, Barbara, called the Soul Sisters. She later formed the Exotics, singing and dancing particularly at the Royal Peacock Club, one of the premier Atlanta nightclubs. The Exotics opened for several touring acts at that venue, including Otis Redding, Joe Tex and the Temptations.  Hall's live work came to the attention of Ichiban Records and, in 1995, they released her debut solo album, Showin' Off. The same year she appeared at the Sarasota Blues Fest. Hall's recording exposure led her on tours in Europe, which included her performing at the Montreux Jazz Festival. Her second album, One Drop Will Do You, was issued in 1997.  In 2001, she self-released Miss Red Riding Hood. Hall performed at the W.C. Handy Blues and Barbecue Festival in 2005. As well as continuing to perform and record, she befriended Shemekia Copeland and gave guidance in her early career, and Hall regularly visits schools teaching blues culture and singing styles. Hall continues to perform at Blind Willie's in Atlanta.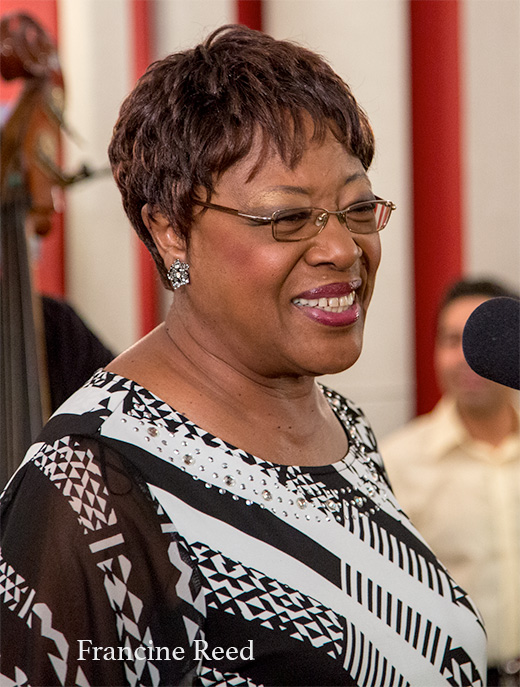 Francine Reed
Honorary Lifetime Membership Recipient
Francine Reed sang at church services in her youth and her music was inspired and influenced by her gospel-singing father. She is the sister of jazz singer Margo Reed who died in April 2015.
In 1985, she began recording and touring with Lyle Lovett and His Large Band. Reed has also appeared on recordings by Delbert McClinton, Willie Nelson and Roy Orbison. After she relocated to Georgia in the 1990s, she released her first solo album, I Want You to Love Me. Reed has received the W. C. Handy Artist of the Year and Song of the Year nominations.  Reed was inducted into the Arizona Blues Hall of Fame in 1997.
Reed is perhaps best known for her performances of the classic blues song "Wild Women (Don't Get the Blues)," written in 1924 by Ida Cox. A recording of this song appears on Ichiban Records Wild Women Do Get the Blues and Lyle Lovett's Live in Texas. Reed's distinctive voice can be heard on a television ad for Senokot (I Feel Good), and in a scene from the film, The Firm (1993).
In the mid-1990s she moved to Atlanta, Georgia where she is still based today. She frequently performs at Blind Willie's in the Virginia-Highland neighborhood.
.
Sweet Betty
Honorary Lifetime Membership Recipient
Born in Duluth, GA, just northeast of Atlanta, Betty Echols Journey grew up listening to gospel music. Her mother's singing in church was a key influence on her. Aspiring to become a singer herself, Betty began singing at parties at her friends' homes. In the mid 1980's, she was introduced to legendary saxophonist, Grady "Fats" Jackson. Jackson was so impressed with Betty's vocals that he began bringing her with him to his performances. It was through Jackson that Betty met former Muddy Waters guitarist, "Steady Rollin" Bob Margolin. In 1993, Jackson and Betty's music collaboration would land them a cameo appearance in the movie "Simple Twist of Fate", starring Steve Martin.  Upon the untimely death of Jackson on January 17, 1994, the future of Betty's singing career appeared uncertain until Margolin invited her to sing on his 1997 release "Up and In". You can hear Betty's vocal work on the laid-back sax driven Grady "Fats" Jackson tune, "Coffee Break." Betty's popularity continues to grow as evidenced by her demand from European audiences. Her resume includes past performances in Greece, Italy, France, and Switzerland. Closer to home, you can often find Betty performing with The Shadows at Blind Willie's or with long time Georgia musicians and friends, Albert White and Roy Lee Johnson, both former guitarists with the legendary Atlanta blues pianist, Piano Red.
.