The Atlanta Blues Challenge
Our Annual battle of the best local blues bands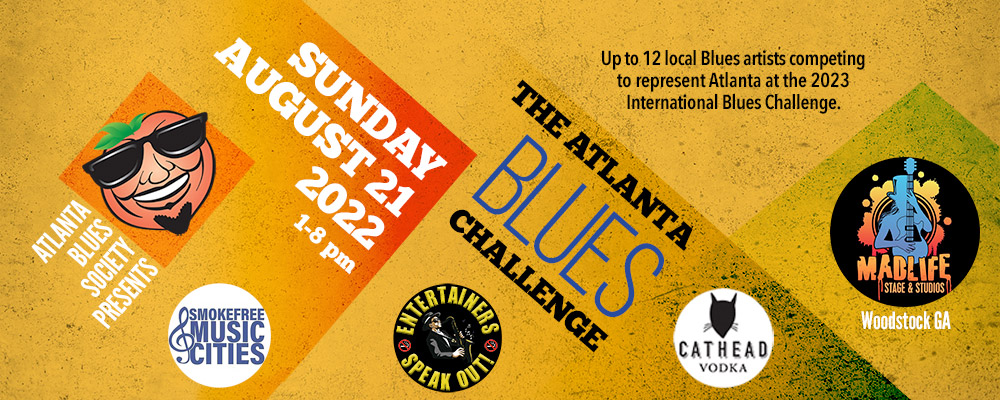 Atlanta Blues Challenge 2022
The Atlanta Blues Society is now taking entries for the 2022 Atlanta Blues Challenge. This competition will decide who will represent us in the International Blues Challenge (IBC) in Memphis, TN which is tentatively scheduled for the week of January 28 to February 4 and will take place on Beale St in in Memphis. This year's ABS competition will be as follows:
What: Atlanta Blues Challenge
Date: Sunday, August 21, 2022
Time: 1pm-9pm@ 
Place: MadLife Stage & Studios
Address: 8722 Main St.,
        Woodstock, GA 30188
Deadline for entry: 2300 (11pm), July 23, 2022
There are three categories of acts for the challenge: Youth, Solo/Duo, and Band . For the Youth act, all participants must be under the age of 21. While the Youth act is a competition at the Atlanta Challenge, they will not be in competition at the IBC in Memphis, but instead will be in a Youth Showcase which takes place on Friday evening of IBC week. The winning Youth act will need to take off at least one day from school, and possibly two, to allow for travel time to Memphis. The Solo/Duo and Band act winners of the Atlanta Blues Challenge must be able to be in Memphis for the registration and the entire week of the IBC in order to participate in the various stages of the IBC competition (Quarter finals, Semi Finals, and Finals).  This year's IBC is tentatively scheduled for January 28 to Feb 4
Please familiarize yourself with the rules and regulations of the IBC (found at the link below and attached PDF) before applying so you know what will be expected of you in advance:
IBC Rules and Guidelines For Local Affiliate Challenges
Backline will be provided and all acts will be expected to perform a 25-minute set, which will be timed by a timekeeper. Original songs are encouraged and will increase your chances of winning. Musician sponsors of the ABS get a discount in fees. Musician Sponsorship is $50 ($40 for Youth Act) per year and includes one membership and many promotional benefits.
Fees for the Challenge are as follows:
• Youth Act – $60 ($40 for Sponsorship + $20 entry fee)
• Solo/Duo Act – $70 ($50 for Sponsorship + $20 entry fee)
• Band Act – $75 ($50 for Sponsorship + $25 entry fee) 
Prize money for the winning acts is as follows:
• Band – $750
• Solo/Duo – $400
• Youth – $300
• People's Choice – $250 
 The People's Choice winning act will be determined by voting of the paying patrons at the event. All prize winners will be invited to play at the Atlanta Blues Society's Holiday party in December, where the prize money will be awarded along with any tips donated to the acts competing in the IBC. Winning acts are encouraged to have at least one fund raising show. In addition to the prize money, the Atlanta Blues Society has made arrangements with our sponsor, Midnight Circus Productions, to provide the winning acts studio time to make a master recording that can be used to produce CDs (cost of replication not included) which can be sold before, during and after the IBC in Memphis. Midnight Circus has also graciously agreed to provide all participants a high quality video of their Challenge performance with soundboard audio.
To apply for the challenge please email your request to theatlantabluessociety@gmail.com. You will be emailed the entry forms and payment information. All entrants who have paid by the deadline will be in consideration to compete. Due to time limitations we can only have a total of 12 acts in the competition, however in the event that we have to limit the number of acts, any act not chosen to compete will be refunded their entry fee.